Home of Wolfetriad!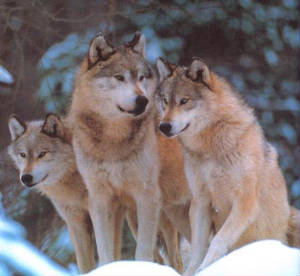 Hi!
I am proud to present to you some of my artwork -
These are from my current artistic phase, which I am still thrilled with and enjoy immensely! My style would be called "folk art". My granny's neighbor did this kind of thing in the pacific northwest during the "great depression" of the 1930's. The grains in this wood add depth and glow and help bring the characters to life!
These beautiful pieces of art started out as Cherry Wood Cupboard doors - perhaps doomed to hang dully in someones kitchen. My husband rescued a truckload of them and has given them to me to transform into art that makes me - and hopefully you the beholder HAPPY too!
The practice of wood grain art is the bringing out of the natural pictures in the wood. Each peice is a one of a kind creation from nature. The wood is dyed - not painted, to enhance the picture and leave the wood grain intact. Minimal carving is added to help define characters. Then the whole thing is repeatedly sanded and oiled (I use tung oil) until the wood has a "glow" and protective shine. My pieces may be dusted or polished using any LIGHT colored furniture oil. I prefer Old English.
I am pleased to announce that some of my art will be at the Dancing Otter Gallery in Grants Pass, Oregon!
Here are a few of those pieces!